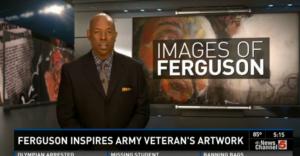 FERGUSON, Mo. – "Initially they weren't even images I was going to share," said graphics artist Howard Barry, describing the 50 pieces of Ferguson-inspired artwork he's created.

In the beginning, Barry painted water color images from Ferguson, like a lone protester surrounded by clouds of tear gas. Eventually, the newspaper headlines in the St. Louis American caught his attention.

He noticed there was page after page of Ferguson coverage, and he started painting images on the newspaper pages. Each piece of artwork contained the hashtag "Ferguson."

"The hashtag 'Ferguson' started to connect all of these pieces together and show that it was a body of work," Barry said. "All this is a narrative."

It's a narrative that's intense and in your face such as the protester confronting several police officers wearing protective face shields, or a mourning Michael Brown Sr. with a huge tear running down his cheek, or the watercolor image of Missouri Highway...